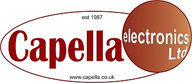 4 Shaftesbury Rd Romford, E10 7DA United Kingdom
Capella Electronics are specialists in the design, development and manufacture of High Security systems for Automated Teller Machines
Capella have been manufacturing ATM (Automated Teller Machine) high security protection systems for most UK major Banks, Data centres, Building Societies and other financial institutions since the company was formed in 1986.
Second generation family run business based in London,now in our 30th year of manufacturing high quality security systems, hand made and hand tested for integrity and reliability, Offering in house manufacturing facilities enabling bespoke requirements for our clients.
All products are engineered within a BS EN ISO 9001:2000 standard.
Exhibiting at IFSEC 2016 for the first time, we cordially invite existing and new customers to view our existing range of ATM and vault sensors and the launch of a new slimline version of our atm unit s…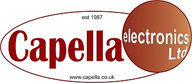 You must login to post comments