Sincan OSB Erkunt Caddesi No:20 Ankara 06930 TURKEY
20 Erkunt Caddesi
Ankara
06935
TR
MAKIM has been founded in 1982,in Turkey.MAKIM manufactures turnstiles including tripod turnstiles, full height turstiles,hidden-gates and VIP doors
And also, Makim is manufacturing access control systems like mifare card readers, proximity card readers.
MAKIM employs over 100 people and manufactures mechanical, sheet metal and electronic components in its own manufacturing facilities.
MAKIM has ISO 9001:2008 quality management system in the production and management.
MAKIM has completed many projects, for example, Pakistan Metro Stations, Sudan Railways, Qatar Railways, Istanbul Metro Stations, Istanbul Sea Bus Stations, Ankara Metro Stations, Kayseri Railway Stations which are the biggest cities of Turkey. More than 1200 turnstiles still operate in Istanbul Metro today.

You must login to post comments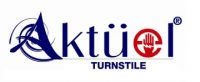 Ivedik O.S.B. - Agac Isleri san. sit 1333.Cad. No 23-25 Ostim-Yenimahalle Ankara 06378 TURKEY
21.84 km
AKTUEL  was founded in 2005 and is proud of being the  leading access control producer in Turkey....
Gersan Sanayi Sitesi 2308 St. (657 St.) No:87 Ergazi Ankara 6770 TURKEY
28.8 km